The entire New York real estate industry got thrown a curveball this week when the Department of State released on Wednesday an advisory providing guidance about the Statewide Housing Security & Tenant Protection Act of 2019 and the Housing Stability & Tenant Protection Act of 2019, legislation signed last summer dramatically revised landlord-tenant law.
The new legislation significantly increased tenant protections in a number of ways, putting significant new obligations on landlords, but did not specifically address the responsibilities of brokers and real estate agents in the process.  The new DOS guidance was designed to clarify that, explaining how DOS expected licensed professionals to ensure compliance with those rules. Most of the guidance essentially said something like "brokers can't be a party to landlords who violate these rules." Which is fine.
But in the midst of all that, DOS slipped in a major change to the way that the industry has operated for years:
5. CAN A LANDLORD'S AGENT COLLECT A "BROKER FEE" FROM THE PROSPECTIVE TENANT?
No, a landlord's agent cannot be compensated by the prospective tenant for bringing about the meeting of the minds. NY RPL § 238-a(1)(a) provides, in part, "no landlord, lessor, sub-lessor or grantor may demand any payment, fee, or charge for the processing, review or acceptance of an application, or demand any other payment, fee or charge before or at the beginning of the tenancy, except background checks and credit checks…." The fee to bring about the meeting of the minds would be a "payment, fee or charge before or at the beginning of the tenancy" other than a background or credit check as provided in this section. Accordingly, a landlord's agent that collects a fee for bringing about the meeting of the minds between the landlord and tenant (i.e., the broker fee) from the tenant can be subject to discipline.
Essentially, DOS specifically forbid real estate brokers working for a landlord from collecting a fee paid by the tenant.
To be clear, the new regulatory guidance did not bar broker's fees in rental transactions. Rather, the guidance simply says that a broker for the landlord cannot collect a fee from the tenant. A broker working for the landlord can still collect a fee from the landlord  (which presumably would be passed through in the rent). And a broker working for the tenant can collect a fee from the tenant  (or from the landlord, for that matter).  But the broker working for the landlord can't get paid by the tenant.
This isn't such a big deal in many parts of the state. For example, in Westchester, it's customary for the landlord to pay the full commission, and for the tenant to pay nothing to either her agent or the landlord's agent. So in places like that, this change won't have much of an impact.
But it's a very, very big deal in Manhattan, where rental prices and brokerage fees are significantly higher than to the rest of the state, and where the common practice was to require the tenant to pay the full thing.   And, of course, Manhattan happens to be the media capital of the world, pretty much every journalist in Manhattan has probably rented an apartment and complained about the broker fees. That's why this news got so much coverage.
Now, let's make full disclosure: I'm a real estate broker (and an attorney). So I have a financial interest in all this, and everything I say from here on in should be be taken in that context. Okay? Just so that's clear.
So here's my opinion: I think it's a bad rule, and that it won't accomplish much of anything for consumers. For the most part, landlords will just build the brokers fee into the monthly rent, so tenants won't have any real savings.
Even worse, I don't like a rule that encourages consumers to avoid hiring their own agent in order to save on paying an upfront out-of-pocket tenant's agent fee. On other words, tenants will understand that they don't need to pay a fee if they go direct to the landlord, but will have to pay a fee if they hire their own agent  So they'll start going directly to the listing broker  And that's a terrible idea  It's like buying a car from  a car dealer — everyone works for the seller,  no one works for you, and you have a massive informational disadvantage  Like, how will you find out what other similar apartments have actually rented for?  That's the kind of info your own agent digs up; a listing agent isn't going to be a reliable source of that
Generally, I think that everyone in a real estate transaction should have representation from an agent, just like every litigant should have their own attorney  It makes for a fairer process
That said, if we have to, we'll all adjust to this new rule. If the DOS is going to require landlord brokers to get paid only by the landlord, then we'll figure out how to work within the system. We can still get paid on the tenant side by the tenant, which means that landlords don't have to pay both sides of the transaction unless they want to market their listings as "no fee" (which can be a good marketing angle).  After all, in residential sales, the compensation for real estate sales is generally paid by the seller — who is in the position of the landlord. It's not a big adjustment. We'll be okay, probably, and I expect that most other brokers will as well.
That said, I do have two issues with the new guidance that I wanted to get out there: (1) the way it was announced, and (2) the legal foundation for the brokerage compensation rule.
1.  The Announcement
I really think that the DOS could have done a better job promulgating this new guidance:
First, as far as I know, they never consulted with industry people to get our opinion while they were forming the rule.  Or at least, they never talked to me, and I'm like one of maybe 5 attorney/brokers in the state who specializes in brokerage law, and I co-own one of the biggest brokerages. I'm not saying they needed to listen to us, but they could have at least gotten our opinion.
Second, they announced the new guidance without any warning to the industry to be prepared for this change.  Again, as far as I know, none of us saw this coming, and we were all blindsided.  Many of us found out in media reports.  That's not right.
Third, they didn't give us any formal way to ask questions about the new guidance, or get clarification.  Would it have killed them to have a conference call with, say, the NYSAR legal department, or an open call with brokers and agents to take questions?  They put a phone number on the guidance itself to call for help. I called it. The person who answered said they didn't know anything except what was in the guidance itself.  So not particularly helpful.
Finally, and this is the biggest problem, they didn't clarify when the new rule was effective. We're assuming it was effective immediately, and that's the way we've treated it, but it would have been really helpful for DOS to announce that the rule was effective in, say, a week. Give us time to close out the transactions in the pipeline, which were agreed-to under the old rules.  Honestly, if a landlord and tenant reached an agreement that included the tenant paying a fee to the broker, and then the rule changes and we can't charge the tenant, and then the landlord refuses to pay because our contract doesn't provide for it — is that really fair?  That could have been avoided with a clear effective date.
Again, adopting the rule is one thing, but the way it was adopted is another. Simply put, it was really hard adjusting on the fly like we had to this week. It didn't need to be that confusing and difficult.
2.  Whether the New Rule is Correct
Moreover, I do think that the DOS interpretation of the legislation is a little questionable.
Essentially, I think that DOS is wrong that the legislation itself prevents the landlord from requiring the tenant to pay a brokerage fee. The purpose of the legislation was to limit the fees collected and kept BY THE LANDLORD to the equivalent of one-month's rent. That's why, for example, the legislature also limited application fees to $20 — because they figured that the $20 was a passthrough to a third party, not payment to the landlord, and anything more than $20 would essentially be an upcharge.
But the legislature didn't restrict fees to third parties. Landlords sometimes collect for a cable bill, or water bill, or utilities, stuff like that.  None of that was mentioned, because the custom is that those are simply pass-through fees to third parties.
Well, so is a broker fee.  A broker fee is not (generally) shared with the landlord, it's paid to a third party.  Moreover, the legislature never specifically mentioned broker's fees, and they certainly could have given how prominent a broker's fee is in a transaction, and how much money is often involved.  And, generally speaking, if the legislature doesn't specifically mention something in the legislation, there was a reason.
So why did DOS stretch to make an interpretation that a brokerage fee paid to the landlord agent, but not the landlord itself, is unacceptable?  I don't know. But their reading is inconsistent with the exception they made to the $20 limit in cases where the condo or coop board has a separate fee.  In this case, DOS followed what I think is a fair reading of the law — they didn't limit the board fee because that fee is legitimately collected by a third party, or at worst collected by the landlord to be passed through to the third party. So why treat board application fees different from broker fees?  They're both collected by third parties for a service provided as part of the overall transaction.
Moreover, the DOS had a number of far less intrusive ways of adhering to the purpose of the legislation without completely unending a pretty well-established and unchallenged industry practice. For example, if the actual purpose of the legislation was to prevent the landlord from collecting more than the equivalent of one month's rent, why not simply prohibit a broker from SHARING a broker's fee with the landlord, or kicking it back to the landlord. Or prevent brokers from collecting a fee if there is cross-ownership between the broker and the landlord (which comes up a lot).
The point of the legislation was to limit the LANDLORD to the equivalent of one month's rent. Nothing in the legislation is written to limit legitimate THIRD PARTIES from collecting fees from the tenant for services rendered.
Now, maybe I'm missing something. I've spent a lot of time parsing the 2019 landlord tenant act, and I know it pretty well. But I'm not writing a brief or a law review article here — this is just an informal opinion.  So if I'm missing something, and someone points out to me clear indications of legislative intent showing that the legislature meant to bar landlord brokers from collecting fees from tenants, then I'll revise and update this post accordingly. Indeed, I welcome corrections if I've made a mistake.
Conclusion
Again, if this is the new rule, we will adjust. I wish they'd given us a little warning, and put an effective date on the guidance, but that ship has sailed.
To be clear, I'm not against the legislation as a whole. I think the legislature out in some needed protections for tenants, even though I think some of the provisions are going to hurt good landlords more than bad ones. I think the law could use some tweaking, but I know what they were trying to do, and they were well-intentioned.
Moreover, I'm not anti-regulation. I'm a lawyer. I like rules, particularly clear ones. I have had a good working relationship with DOS over a long period of time. I respect what they do, and I value the work DOS does to regulate this industry and protect consumers.  But I'm just puzzled why the DOS came to this particular conclusion, and announced in this peculiar way, when I don't think they had to.

Dear Clients,
Please be advised that on February 5, 2020, the Department of State announced that landlords can no longer require tenants to pay brokerage fees to a broker/agent representing the landlord.  You can find the Department's statement here.
Please note that this only applies to a broker/agent representing the landlord. If the broker/agent represents the tenant, and has a representation agreement that sets out a brokerage fee to be paid by the tenant, then the broker/agent can be paid by its tenant client.  Similarly, the landlord can pay the landlord's agent, and, if the landlord wishes, the tenant's agent as well. But the landlord's broker/agent CANNOT be paid by the tenant.
The Department did not make clear whether this new rule applies to leases that were agreed to prior to February 5th, 2020.  Other parts of the Department's statement do indicate that the Department's new interpretation is not intended to apply to existing leases. Thus, we are interpreting it to apply to leases signed as of today, February 6, 2020, the first business day after the announcement was made. We will advise you if we get contrary guidance from the state.
Accordingly, as of February 6, 2020:
Landlords:  if you are a landlord, you need to pay the brokerage fee to your own agent. You can also pay the tenant's agent if you wish, although you do not need to.  But you cannot compel the tenant to pay your landlord's agent. Essentially, if you want to list your property for rent, you need to at least compensate your own agent. You should also consider compensating a tenant's agent, the way sellers do in residential sales, in order to incentivize them to bring you a tenant.  You can always build the cost of the compensation into your monthly rent.
Tenants: if you are a tenant, you do not have to pay a brokerage fee to a broker representing the landlord. You might still need to pay your own tenant's agent, if you have one, pursuant to a separate agreement. If you're working with a tenant's agent, that agent deserves to be paid for their work.
Please note that if you have an existing agreement in principle to lease a property that requires the tenant to pay a brokerage fee to the landlord's agent, but that agreement is not yet signed, then that agreement must be modified to comply with this new interpretation in the law.  The landlord needs to pay its own broker.  That might mean, of course, that the landlord might require an adjustment of the monthly rent due over the course of the lease.
We hope you find this helpful. If you have questions, please reach out through your Rand Realty agent.
NOTE:  I am an attorney, but I am not your attorney. I represent Better Homes and Gardens Real Estate |Rand  Realty.  If you would like to discuss the matter discussed here with an attorney, you should do so.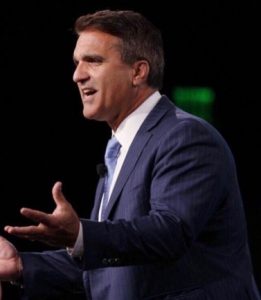 On February 5th, the Department of State put out an advisory providing guidance on agent responsibilities under the Housing Stability and Tenant Protection Act of 2019.
That legislation was a far-reaching and progressive set of changes to the landlord-tenant relationship, providing significant new protections to tenants, including the following:
Landlords cannot refuse to rent to someone based on their lawful source of income, or because that tenant was involved in a past or pending landlord-tenant action.
Landlords cannot charge an application fee, or more than a $20 for a background/credit check.
Landlords must give the tenant the opportunity to inspect the premises prior to occupancy, and execute a written agreement describing the condition of the premises.
Landlords cannot require more than an amount equal to one month's rent as an upfront payment to cover all deposits and fees.
Landlords cannot require tenant's to pay any part of the brokerage fee due the landlord's agent.
Landlords must inspect the premises prior to termination of the lease and notify the tenant of any repairs or cleaning that must be done, and can only keep a part of the security deposit if they provide an itemized statement explaining why.
Landlords can only charge late payment fees if a rent payment is more than 5 days late, and can only charge 5% of the monthly rent, capped at $50.
Landlords must give tenants between 30-90 days' notice prior to lease expiration of their intent not to renew or to raise the rent by more than 5%.
If the tenant breaches the lease, Landlords must act in good faith to mitigate the damages by finding a new tenant as soon as possible.
Landlords have significant restrictions on their rights to evict tenants – we're not going to review them here except to say that landlords should consult with an attorney about any attempt to effect an eviction.
Agents should be familiar with these new laws, because landlords might not be, and you will need to guide them so that they don't inadvertently break the law.
Moreover, agents also need to be aware that the Department of State has put affirmative obligations on them to help landlords comply with the new laws.
The DOS guidance is a little dis-organized and confusing, though, so we've tried to make sense of it for you.  Essentially, in all these cases, you must advise the landlord to comply with the law, and cannot be a part of any non-compliance regarding the following obligations:
 Brokerage Fees for the Landlord's Agent Cannot be Paid by Tenant
If you represent the landlord, the landlord has to pay your fee. The landlord cannot compel the tenant to pay any part of the fee.
Brokerage Fees for the Tenant's Agent Can be Paid by Landlord, Listing Broker, or Tenant
If you represent the tenant, you can get paid in these ways:
your tenant can pay your fee pursuant to a separate representation agreement.
the landlord (or listing broker) can pay your fee pursuant to a standard offer of compensation in MLS.
the landlord can pay your fee, even if no offer of compensation was made in MLS, if the tenant requires the landlord to pay your fee as a condition of the lease.
One Month Rent Cap on Upfront/Advance Fees or Rent.
You cannot be party to a landlord charging more than a month's worth of rent in upfront fees to cover a security deposit, advance rent, pet deposits, or the like.  Essentially, this allows a landlord to require a tenant to pay one full month's rent as a security deposit, and that's it.  No pet deposits, no "last month's rent," no broker's fee, nothing.  This includes short-term rentals, which sometimes require pre-paid rent for a full term – that is no longer allowed, because under no circumstances can a landlord require a tenant to pre-pay anything more than one month's worth of rent.
Application Fee.
You cannot be party to a landlord charging more than $20 for an application fee to cover a background/credit check. Moreover, if the potential tenant provides a copy of a background check or credit check conducted within the past 30 days, the landlord has to waive any application fee.
Note that DOS has carved out some further guidance on this:
condo and coop boards can charge a separate application fee, so long as they don't own the unit being rented (or pay the money to the landlord in any way).
if there are multiple individuals who are taking on the tenancy, brokers and landlords can charge a $20 fee (if otherwise allowed) from each of the individual tenants.
if you collect a fee, you have to provide the tenant with a copy of any background or credit check.
you can require the tenant to use a specific company to get the background or credit check, so long as you otherwise comply with the $20 limitation and fee waiver if the tenant has a credit or background check from the last 30 days.
the $20 rule applies to subletting tenants (i.e., sublandlords) the same way it applies to landlords.
Prior Disputes.
You cannot allow a landlord to refuse to rent or offer a lease to a potential tenant because that tenant was previously involved in a dispute with a landlord.  You can still ask a tenant for references, but you cannot ask the references whether the tenant has any past or pending landlord-tenant actions.
Late Rent Fees.
You cannot allow a landlord to charge a tenant more than 5% of the monthly rent (capped at $50) as a late fee, which can only be charged if the rent is more than five days late.
Security Deposit Return.
You cannot be party to a landlord holding a security deposit without complying with the new requirements of notice and itemization of damages.
We hope you find this helpful.  We will be updating this Advisory if we get more guidance, or find that it needs some clarification.
JR
Posted on February 6, 2020 at 6:16 pm
Joseph Rand
Posted in

Agent Advisory, Landlord-Tenant Law, Law
Tagged

Advisory, Brokerage Fees, Department of State, DOS, Landlord, Rent, Security Deposits, Tenant